THE INFORMATION SOCIETY
LIBRARY (2003)
(GETTING THE BEST OUT OF CYBERSPACE)

In 2003, Stefano Baldi, Eduardo Gelbstein and Jovan Kurbalija published with Diplofoundation a series of booklet providing information and guidelines on key cyberspace and Internet-related issues.
The title of the series was "The Information Society Library".
These booklets addressed the needs of professionals in the field of international affairs, providing knowledge about main trends and issues concerning cyberspace today.
They are no longer in print, but since some of their contents is still partially valid, the digital version of some of them is made available.
Please do consider that they were published in 2003.
1) Internet Basics: from FAQs to Facts to FFPs (Frequently Found Problems)
2) Good Personal Hygiene in Cyberspace: Why and how to protect data and persnal computers
3) Finding information in cyberspace: from irritation to inspiration
4) Hacktivism, cyber-terrorism and cyberwar: the activities of the uncivil society in cyberspace
5) Appropriate use. Guidelines to best practices and netiquette for the use of electronic mail and doing things in the World Wide Web
6) Information Security and Organizations. A non-technical guide to players, offences nad defence mechanisms known to work
7) Online learning for Professionals in Full Time Work. A guide to what works and what does not
8) Internet Governance. (this is the only booklet that has been updated and it has been replaced for the most part by An Introduction to Internet Governance by Jovan Kurbalija)
From the preface of the booklets
There is no shortage of books on all matters relating to information management and information technology. This booklet adds to this large collection and attempts to do a number of things:
• offer non-technical readers an insight into the few principles that are important and reasonably stable;
• present the material in a context relevant to the work of those involved in international relations;
• awaken the curiosity of readers enough that they will progress beyond this booklet and investigate
and experiment and thus develop knowledge and take actions that will meet their particular needs.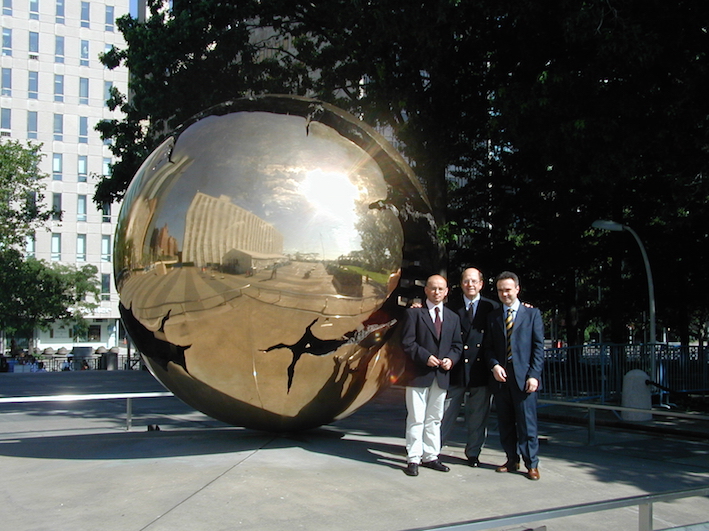 The three authors in 2003 at the UN - New York