Suggested Readings for diplomats
Here is a list of Suggested Readings for Diplomats and other people interested in International Affairs. For those who are interested in purchasing the book I provided an direct hyperlink to cyberlibraries for those who want to buy the books. Other suggestions are welcome !!

See Page 1 | 2 | 3 | Libri in italiano
See also Books notes by Prof. G.R. Berridge
---
Kishan Rana - The 21st Century Ambassador: Plenipotentiary to Chief Executive, 2004.
This book comprehensively examines the institution of the ambassador, a prime constituent of the international system, in terms of contemporary relevance, responsibilities and potential. Noted diplomacy scholar GR Berridge (Emeritus Professor, University of Leicester) has called it 'fluent, lively, comprehensive, in parts original, and above all sage'. Jan Melissen (Director of Training, Netherlands
Institute of International Relations, Clingendael) says: 'The book is highly recommended to practitioners. it's main purpose is to optimize the role of the ambassador in a globalised world.' The book is based on the author's professional diplomatic experience of 35 years, and scholarship of the academic literature.
Jovan Kurbalija, Stefano Baldi - Internet Guide for diplomats, 2000.
The Internet Guide for Diplomats is the first guide specifically conceived and realized for diplomats and others involved in international affairs. It is a comprehensive tool to help diplomats and others involved in international relations use the Internet in their work. The book includes both basic technical information about the Internet and specific issues related to the use of the Internet in diplomacy. It also addresses the topics of web management in diplomacy and knowledge management. The guide is aimed at beginners in the field of information technology, but should also serve as a useful printed supplement to the many online tools available for the advanced user. Although the guide will be distributed as a traditional publication, an online version will be constantly updated and available to the diplomatic community.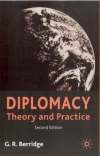 Geoffrey R. Berridge - Diplomacy: Theory and practice, 2002
This revised and updated edition includes comprehensive coverage of the main issues, from the value of the resident mission to international negotiation and new chapters on telecommunications and the ministry of foreign affairs. It includes the most-up-to-date information about the real world practice of international relations.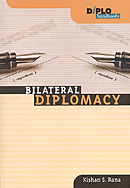 This book is a practical, hands-on guide on building and operating bilateral relations between countries. It is intended for diplomacy practitioners and for students of international relations..

Modern Diplomacy is a collection of papers and discussions presented at the International Conference on Information Technology and Diplomacy (May 1997) and the International Conference on Modern Diplomacy, (February
1998). The contributors are professors, diplomats and official involved in
international relations coming from a wide variety of countries.
Giandomenico Picco - Man Without a Gun : One Diplomat's Secret Struggle to Free the Hostages, Fight Terrorism, and End a War , 1999.
Man Without a Gun is a thrilling memoir of Giandomenico Picco's two decades as a high-level diplomat for the United Nations. Over the course of his career, Picco helped negotiate the Soviet withdrawal from Afghanistan and helped bring an end to the bloody Iran-Iraq war, but he also had several harrowing encounters with Middle Eastern terrorists--whom he met unarmed. In one memorable episode, he walked out of an embassy in Beirut and was grabbed on the street, thrown into a car with his face jammed to the floor, and whisked to a secret location to discuss the release of Western hostages with their masked captors. Other experiences are equally unnerving, such as a trip to Tehran to share unwelcome news with Iranian president Ali Akbar Hashemi Rafsanjani: the United States had just refused to reciprocate an act of goodwill (the release of hostage Terry Anderson). Picco wondered whether he would get out of the country alive; he did, but only because Rafsanjani offered this advice: "I think it is best if you leave Tehran very, very quickly."

Henry Kissinger - Diplomacy , 1995

In a brilliant, controversial, and profoundly incisive book, former Secretary of State Henry Kissinger explains the art of diplomacy and reveals why Americans have historically repudiated both the style and substance of diplomacy as it is practiced throughout the world. 30 pages of photos.

Henry Kissinger - Years of Renewal , 1999

Kissinger, a national security advisor and secretary of state in the Nixon and Ford administrations, is a foreign-policy maestro fond of describing the difficult subtleties of his job. He is also, at times, generous with his praise--especially with this whopper: "I am certain the time will come when it is recognized that the Cold War could not have been won had not Gerald Ford, at a tragic point of America's history, been there to keep us from losing it." Years of Renewal begins during Nixon's final days, and provides a few key insights into the man Kissinger calls "perhaps [the] most complex President of the twentieth century." One eye opener is the revelation that Nixon ordered the bombing of the Damascus airport in 1969 during a hijacking incident "to impress his pals." (It was called off the next morning.) The bulk of the book (and bulk is the right word--there are nearly 1,100 pages of text before the footnotes) focuses on Ford, who comes across as much more statesmanlike than the popular image of him as a bungling caretaker. The portraits of contemporary world leaders are also valuable. Kissinger combines detail and clarity to deliver an important chronicle of American diplomacy during the 1970s. --John Miller

Richard Holbrooke - To end a war, 1999
In To End a War, an honest assessment and account of the events that followed, Holbrooke walks us through the complexities of the Dayton Accord from the perspective of the politicians and military men involved. It provides a fascinating insight into modern political diplomacy and the role of America in the international arena. Without being a crusader, Holbrooke stresses throughout the need for responsible public service, subtly attacking some modern-day diplomats who use their positions irresponsibly. Ultimately he concludes that this peace process demonstrates the need for countries of power, such as the U.S., to take their of leadership roles seriously. To End a War is the definitive account of the peace process in the former Yugoslavia, important to anyone who wishes to understand the conflict in its entirety. --Jeremy Storey -